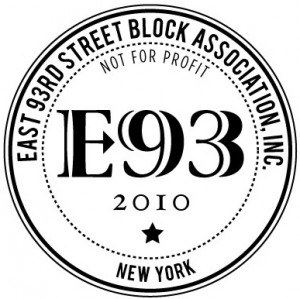 The East 93rd Street Block Association, Inc. is comprised of residents and local businesses in our neighborhood. It is a non-profit 501(c)(3) organization established to address quality of life issues, including beautification, maintenance of our sidewalks, security, construction and sanitation which affect our neighborhood in the East 90's and in particular East 93rd Street between First and Second Avenue. This neighborhood is our home and it has many attractive, appealing and convenient features. Although East 93rd Street is in a serious state of disrepair, we believe that we can bring the physical appearance of our block back to a healthy and sanitary state. We are working with our residents and community businesses towards a tree lined street with our I LOVE MY TREE (ADOPT A TREE) program to create a tree lined street with tree guards and seasonal plantings as well as clean sidewalks, free of garbage and debris. We hope that our association will serve as a model for neighboring streets and that we will eventually be able to grow and incorporate residents of adjoining streets in the East 90's into our association who would like to beautify and enhance their street. We are embarking on a number of beautification and outreach projects to achieve these goals.
East 93rd Between First and Second Avenue
East 93rd Street between First and Second Avenue has beautifully maintained high-rise buildings on both the southwest and northwest corners of First Avenue, as well as the Southeast corner of Second Ave. Low-rise buildings housing apartments and businesses comprise the middle of the block. Once a bucolic and tree-lined street, conditions on our block have deteriorated to a state of disrepair. In short, our block has become a mess. For example, open garbage containers of every variety litter the building entrances and sidewalks, frequently spilling out their contents. Notwithstanding the physical blight, this is also a health hazard for our residents, attracting vermin and an unnecessary stain on our environment. In addition, our block has lost several trees since the MTA entered our block with the 2nd Avenue subway construction. The trees that still remain on our block remain stunted and sad. The sidewalks are frequently filthy with debris and garbage.
East 92nd between First and Second Avenue has joined our Association in January 2011
The Board of Directors of the East 93rd Street Block Association are pleased to announce that our Association is expanding to East 92nd Street  between First and Second Ave. and welcome our new Board Member, Melissa A. Murray, a resident of East 92nd Street.  We are also renaming the association East 93rd Street Block and Neighborhood Association. We are working with the City and the Forestry Dept. to prune the overgrown trees and remove the many dead branches.  We are talking to Green Keepers about cleaning out tree wells, putting in new plantings, adding curb your dog signs  and working on improving the street and making it safer both day and night for residents.   Additionally the new pocket park/garden behind the Plymouth Tower  has now been completed at the foot of 92nd and First Avenue and offers residents and daily neighborhood visitors an area to stop and sit  during the day.   We look forward to making many much needed improvements on the block.